New to Blogging? Then How to Avoid Looking Like a New Blogger is for you!
When I started my blog, I had no idea it would turn into a profitable blog.
I didn't know anything about blogs, social media, or how to make money online. I learned everything from scratch. This meant there were times when I thought I was getting no-where and was close to quitting. In fact, I stopped blogging for about 5 months because I felt I was wasting my time.
Even though I made a lot of mistakes when I first started my blog, I did one thing right.
I never gave up.
Just a few years ago, I was unhappy at a dead end job. And now I'm my own boss! It's amazing how much my life has improved and I feel so blessed.
Starting a blog is a lot of fun.
However, if you're looking to make money blogging, then there's a few things you MUST avoid. Some of these mistakes are ones I personally made.
I have written this just for you, so that you can avoid making the same mistakes I did.
Starting your blog on a free website:
If you're just blogging as a hobby or have no desire to make money from your blog, then it makes sense to use a free platform, such as wordpress.com or blogspot.com.
But if you want to make money from blogging, you'll want to avoid using free blogging platforms. Brands and advertisers prefer to work with self-hosted blogs.
I can appreciate that starting a blog for "free" sounds appealing, especially if you're not sure whether you will be able to "make it" in the blogging world and don't really want to spend money on something you're not sure you're going to keep up. But, there's no such thing as a free lunch in this world.
You may not be paying for hosting with a free blog, but you will be "paying" in other ways such as…
Free blogs usually have slower speeds.
It's hard to run advertisements on free blogs (making it difficult to make money).
Free blogs don't rank well in search engines because Google favours self-hosted websites.
Free blogs have limited customization options and look unprofessional.
Having a free blog looks sloppy and gives your visitors the impression that you're not committed.
These limitations can prevent you from growing your blog and making money from your passion. I recommend getting a self-hosted website right from the start. This ensures that you have the right foundation for your blog to succeed.
Making money from your blog, freelancing or turning your blog into a business someday, will require hosting (such as through Bluehost) is a MUST. It's cheap to get started, and you can run your own advertisements, affiliate links or product sales with a blog using Bluehost.
You can start your own money-making blog for as little as $3.95/ month.
I started my blog with Bluehost and highly recommend them.
Choosing a bad web hosting company
Many new bloggers are quick to sign up with cheap web hosting companies that are well-known, such as GoDaddy. Unfortunately, this is a BIG mistake.
Why? Because these web hosting companies offer poor quality hosting and their customer service is non-existent!
There are many web hosting companies to choose from, but Bluehost is one of the best. It's one of the top web hosting companies of 2018. It's also super easy and affordable to start your own blog with them.
I started my blog with Bluehost and recommend them to anyone interested in starting a self-hosted blog. Plus, they offer a 30 day money-back guarantee. So there's very little risk in starting a blog through Bluehost, and a lot of potential to make money blogging.
Trying to please everyone
Many new bloggers worry they'll run out of ideas for blog posts if they stick to just one topic. This is why they write about everything and anything. (I was definitely guilty of this when I started my blog).
While it sounds smart to create a blog that appeals to everyone, it almost NEVER works. By trying to please everyone, you end up attracting no one. Instead, your blog will lack focus, your readers will get confused and have no idea what your brand is about or why they should care.
Does this sound like the type of blog you want to have?
Successful bloggers have a strong niche. They know WHO their target audience is, what their reader is struggling with, and how to motivate their reader to accomplish their goal.
I know this can sound overwhelming right now, especially if you're a new blogger. Don't worry. I didn't have a target audience when I started my blog. It took me awhile before I found my blogging voice and established a strong niche. These things take time, and that's okay.
To help you get started on finding your niche, here are some questions to ask yourself:
What are you passionate about?
What are your skills? Are you knowledgeable about a certain topic?
What are you currently learning? (You don't have to be an expert at something to start a blog. Maybe you're on a journey to paying off debt and want to share your tips with others).
Wasting time trying to make your blog perfect
Here's the moment of truth when it comes to having the "perfect" blog: There is no such thing as the perfect blog.
I see SO many new bloggers get caught up with the belief that they need to have a perfect blog name or the perfect website design.
The truth is, this mentality prevents new bloggers from getting ahead because they're too afraid to take risks. They waste so much time on small details that really don't matter in the big picture.
There are many blogs with perfect domain names and beautiful website designs that don't make any money.
If you want to be a successful blogger, focus on creating profitable content. Share products your audience will find useful and provide value to them. You could have the most beautiful-looking blog in the world. But it's ultimately your content that will make the biggest impact.

Spreading yourself thin on social media
Read this post: 5 Ways to Elevate Your Social Media Presence
Many new bloggers feel the need to be on every social media platform because that's what they see other bloggers doing. The truth is, every social media platform works differently. For example, growing your audience on Pinterest involves a different strategy than growing your followers on Twitter.
I recommend creating profiles on Facebook, Pinterest, Twitter, and Instagram, just to ensure that you have the same handle across all platforms.
However, I only recommend focusing on ONE (or two) social media platforms to promote your blog, and doing them really well.
Not sure which platform to focus on? My suggestion is to go where your ideal audience hangs out. For example, Pinterest is my favourite platform for promoting my blog content.
Neglecting your email list
An email list is vital to your success as a blogger. Many new bloggers make the mistake of waiting to start growing their email list. Some bloggers don't even offer an option for readers to subscribe to an email list (which is even worse).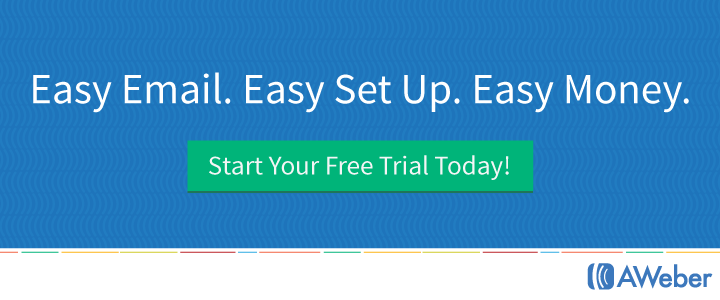 It took me a while before I signed up with Aweber to start my email list. I didn't see the value of having an email list. I'm sharing this with you because I don't want you to make the same mistake I did.
If I could go back in time and tell my younger blogging self what I know now, starting an email list from day one would be on the top of my list!
Why? Because you OWN your email list.
Social networks come and go, algorithms can change, but your email list remains the same. Plus, your email subscribers are more likely to be product buyers. This means if you ever decide to sell a product or service, you need an email list.
Your email subscribers are your MOST engaged blog readers and will be your most loyal customers. For new bloggers, I thoroughly recommend using THIS email service plus you get this FREE e-book called What to Write in Your Emails, which will assist you greatly when writing your first email!!!
If that one isn't for you, then try Opt In Monster. They offer great prices and produce amazing conversions too.
Being afraid to invest in tools that will boost your growth
Many new bloggers are afraid to spend money or invest in tools that they NEED to help grow and make money from their blog.
It's funny because many of these new bloggers are also afraid to pay for web hosting and instead choose a free blogging platform (hoping they can make it successful someday). Choosing a free blog to test the waters is a mistake.
When you have a free blog, you won't take blogging seriously — and neither will Google or brands you want to work with. However, when you pay for web hosting (which is only a few dollars per month), you're more likely to invest in your blog and take blogging more seriously, which will pay off BIG in the long run.
How many hobbies can you think of that only cost a few dollars per month?
How many business ideas can you think of that only cost a few dollars per month to start?
Blogging is one of the MOST affordable hobbies / business ideas I know.
I used to be afraid to spend money. I was scared to pay for a self-hosted blog. I was scared to spend money on a professional WordPress theme. And I was really scared to invest money in buying blogging e-books or e-courses.

Then one day I realized that these fears were holding me back from pursuing my goals and getting ahead. Sometimes you have to spend money to make money.
Once I invested in a professional WordPress theme, my blog traffic instantly increased and I received so many compliments on how easy my website was to navigate and read.
Ignoring your blog's branding
It sounds silly to think about it now, but your blog's brand is important. Creating a style guide for your blog will instantly make your website look more professional and less like a newbie blogger.
You don't need to invest a lot of money to get a custom website theme, fancy logo, amazing photos, and epic graphics. All you have to do is keep it simple. Here are some helpful tips in creating a style guide for your blog:
Logo
Create a simple logo which reflects your blog's brand and core values. I created a simple logo using Canva, however you can pay someone to create a custom logo if you wish.
Fonts
Stick to 2 or 3 font choices for your blog's brand. This keeps things looking clean and professional. I have two font choices for my website: one font for my headings and second font for my body text.
Colours
What colours come to mind when you think of Coca-Cola? If you said red and white, that's because they have good branding. Colours are important for expressing the unique personality of your blog's brand. I recommend sticking to 2 or 3 colours. Here are some ideas to get you inspired.
Photos
Your images are an important reflection of your blog's brand. You don't need to get a fancy camera, there are lots of free and paid stock photo websites to choose pretty images for your blog. Some of my favourites include Stock Unlimited, Pixabay, and 123RF.
Stressing about posting everyday
One of the mistakes I made when I first started my blog was to try and publish a new blog post every day. This strategy was exhausting! And it's impossible for anyone to be a successful blogger with this strategy, unless you have multiple contributors to your website.
Many new blogs fail because they get overwhelmed and think they need to constantly pump out new content. Content is important, but you don't need to publish a new blog post every day to be successful.
Quality is more important than quantity.
You can post three times per week, two times per week, once per week, or a couple of times per month. Whatever posting schedule you decide to do, make sure to be consistent.
Giving up too soon
There were many times in my first year of blogging that I wanted to throw in the towel and give up on my blog.
Before I started Feedourlife.blog, I didn't know anything about blogs, social media or how to make money online. I made a lot of mistakes in the beginning. But fortunately I did one thing right.
I never gave up. I believed in myself and I stayed persistent.
Many new bloggers start a blog hoping for overnight success. But overnight success never happens overnight. It takes time.
So whether it takes you 5 months or 5 years to achieve success, the important thing is to never give up. Never give up on something that you can't go a day without thinking about. Set goals, create an action plan, and make a commitment to yourself to keep at it, even if it seems like a struggle.
This post may contain affiliate links which simply means that if you make a purchase after clicking one of my links, I may receive a small commission as a thank you, at no extra cost to you!
If you loved this post, then why not follow this blog to receive notifications as they are added to my site. I promise I won't spam your inbox!
Happy blogging…until next time!